If you are a freelance developer or you've got a business that's growing faster, you need to have the best cloud services provider, there are only a few popular name-brand providers from which to choose. You already know them as Amazon Web Services, Microsoft Azure, Google Cloud, IBM Cloud.
But certainly, there are other good-quality companies in this ever-growing international mix, with names such as Hitachi Vantara, Backblaze, IDrive, and Wasabi. But just because they're not in the top four doesn't mean they won't be right for your business; in fact, smaller and more personal is what many enterprises prefer and seek out.
In this article, we only focus on the Object Storage offered by these vendors and compare the features, services, and price related to Object Storage.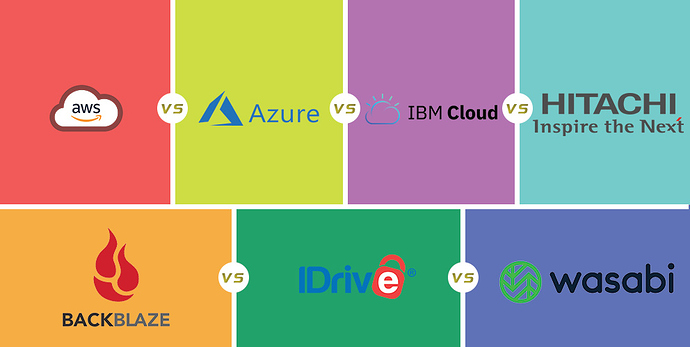 Overview
Amazon S3 object storage is one of the oldest services on AWS. S3 was first made available by Amazon in 2006. Today, the system stores tens of trillions of objects. A single object can range from 0 bytes to a maximum of 5TB in size, and objects are arranged into collections called "buckets".
Azure Blob storage is Microsoft's object storage solution for the cloud. Blob storage allows Microsoft Azure to store arbitrarily large amounts of unstructured data and serve them to users over HTTP and HTTPS. Blobs are grouped into "containers" that are tied to user accounts. Azure Storage capacity is virtually limitless.
IBM Cloud Object Storage also known as IBM COS is a cloud storage platform for businesses. IBM Cloud Object Storage solutions include data archiving and backup, web and mobile applications, and scalable storage for analytics. Businesses can use the IBM Cloud Object Storage to store data securely and inexpensively.
Hitachi Vantara is a data storage systems provider, previously known as Hitachi Data Systems (HDS). Hitachi Vantara mainly offers storage solutions for enterprises and midsize organizations. Hitachi Vantara has a number of products on the storage market, in fields such as Internet of Things (IoT), big data analytics, data protection, cloud storage and converged systems.
Backblaze B2 Cloud Storage works similarly to Amazon S3 or Microsoft Azure or Google Cloud. Allowing you to store unlimited data in the cloud. But does it for 1/4th the cost. Files are available for download at any time, either through the API or through a browser-compatible URL. To use B2 Cloud Storage, you need to have a Backblaze account.
Wasabi Hot Cloud Storage is an enterprise-class and tier-free bit-bucket storage provider. Clearly designed to compete with Amazon's popular S3 cloud storage solution for enterprise users, Wasabi Hot Cloud Storage's lower cost (80 percent cheaper) and no additional charges for egress and API request. Focusing mainly on storage, backup solutions, and file-sharing capabilities.
IDrive Cloud is an Amazon S3 compatible service powered by OpenStack Swift. It provides a high-performing and scalable storage infrastructure for individuals, businesses, and enterprises at a minimal cost.
Cloud Storage Classes
Cloud providers typically offer three cloud storage classes: Hot storage, Warm storage, and Cold Storage. These are the different types of data storage techniques that come under the multi-temperature data management solutions. They all serve specific purposes and named differently among them, but the overall idea remains the same: with temperature fall, the retrieval time increases and the price goes down.
| | Hot Storage | Warm Storage | Cold Storage |
| --- | --- | --- | --- |
| Amazon S3 | Yes | Yes | Yes |
| Azure Blob storage | Yes | Yes | Yes |
| Backblaze B2 Cloud Storage | Yes | No | No |
| Wasabi Hot Cloud Storage | Yes | No | No |
| Hitachi Vantara | Yes | No | No |
| IBM Cloud Object Storage | Yes | Yes | Yes |
| IDrive Cloud | Yes | No | No |
Pricing
Making a clear comparison can be tough in Amazon S3, Microsoft Azure and IBM as their pricing is very based on region, bandwidth, as all three vendors offer slightly different pricing models, discounts and make frequent price cuts. All of them offer their own pricing calculators to simplify their charges, still, they are most complicated for end-users to understand.
Backblaze, Wasabi and IDrive are priced a lot lower and are rapidly disrupting the cloud \ object storage market. Their pricing and calculations are very simple. AWS, Azure, and Google all offer publicly available discounts (reaching as high as 75% in exchange for committing to usage on the cloud provider for a one–year or three–year period.
Availability and Durability
Availability and durability are not the two same things, both have different roles in data preservation. Availability refers to system uptime, while durability refers to long-term data protection.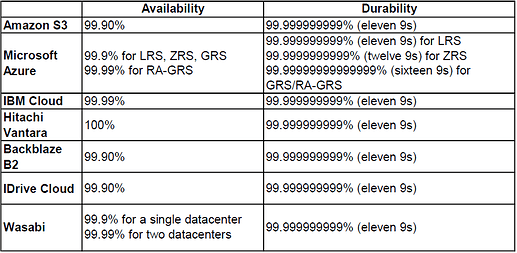 Key strengths and weakness
Choosing one cloud vendor over the others will come down to the wants and needs of each individual consumer and match specific applications and workloads with the vendor that offers the best fit for their needs. In a few cases, corporations will use multiple providers within different parts of their operations, or for special use cases, which is called a multi-cloud approach.
Each of the leading vendors has particular strengths and weaknesses that make them a good choice for certain projects.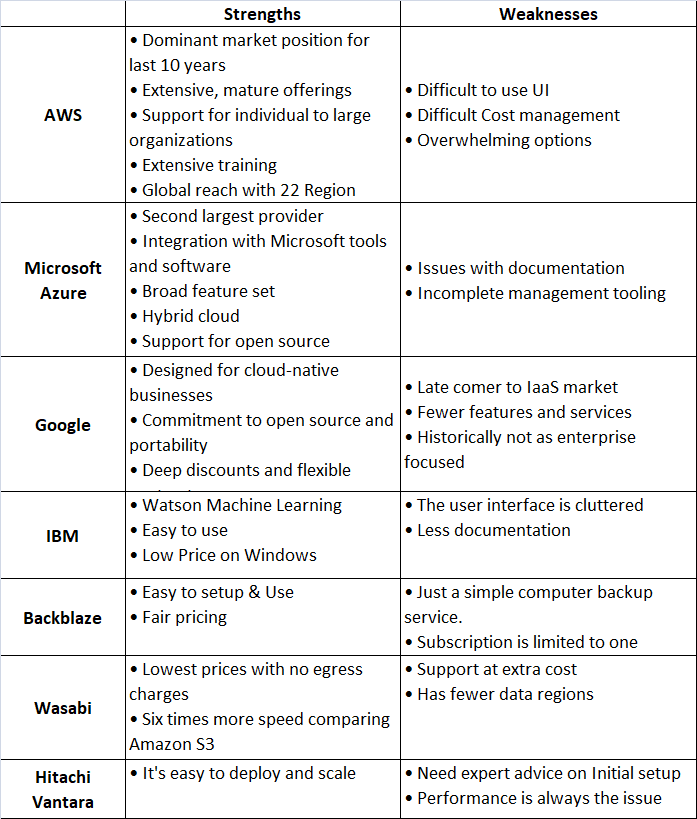 Top providers and their offerings:
The public cloud market is majorly dominated by Amazon, Microsoft, IBM, and Google. No doubts, that these face competitions only from one another and are not likely to be replaced by any other cloud service provider in the near future at least. The reason behind it is that competing in the public cloud needs very heavy investment, as well as masses of tech talent to support the underlying infrastructure.
There are a number of key differentiating factors that separate the approaches of the firms, which can help end-users consider which is right for them.
| Features | AWS | Microsoft Azure | IBM Cloud | Hitachi Vantara | Backblaze | IDrive | Wasabi |
| --- | --- | --- | --- | --- | --- | --- | --- |
| Cloud Computing | Yes | Yes | Yes | Yes | No | No | No |
| Cloud virtual networking | Yes | Yes | Yes | Yes | No | No | No |
| Disaster Recovery | Yes | Yes | No | No | No | No | No |
| Database | Yes | Yes | Yes | No | No | No | No |
| Backup & Restore | Yes | Yes | Yes | Yes | Yes | Yes | Yes |
| NAS Backup | No | Yes | No | No | Yes | Yes | No |
| IoT | Yes | Yes | Yes | Yes | No | No | No |
| Machine Learning | Yes | Yes | Yes | Yes | No | No | No |
| Developer Tools | Yes | Yes | Yes | Yes | No | No | No |
| Mobile Services | Yes | Yes | Yes | No | No | No | No |
| Application services | Yes | Yes | Yes | No | No | No | No |
| Big Data & Advanced Analytics | Yes | Yes | Yes | No | No | No | No |
| Game Development | Yes | Yes | Yes | No | No | No | No |
| Robotics Development | Yes | No | No | No | No | No | No |
| Software MarketPlace | Yes | Yes | Yes | No | No | No | No |
Multi-cloud strategy:
In order to ensure that your business has the best uptime possible, and to guarantee that resources are always available to those who need them, a multi-cloud strategy is the best option to adopt. When it comes to cloud technology, uptime and availability are both huge factors. Both can be affected by seemingly inconsequential things.
A multi-cloud strategy allows companies to select different cloud services from different providers because some are better for certain tasks than others. For example, some cloud platforms specialize in large data transfers or have integrated machine learning capabilities Indeed, RightScale found that 84% of enterprises have a multi-cloud strategy and 61% of small to mid-sized businesses do. Overall, RightScale respondents were using an average of 4.9 public and private clouds.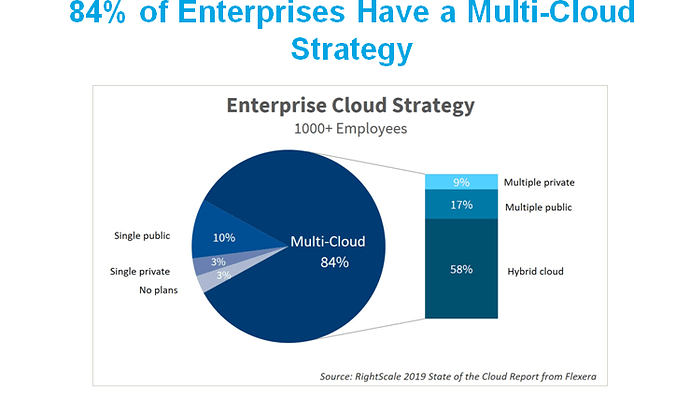 Conclusion :
AWS continues to lead the way in terms of offering the widest range of functionality and maturity. Its enterprise-friendly features make it a strong proposition for large organizations. Meanwhile, its huge and continuously growing infrastructure provides economies of scale that enable aggressive price cuts.
For organizations already heavily invested in Microsoft in terms of technology and developer skills, of which there are undoubtedly many, Microsoft Azure will continue to be a strong proposition.
IBM Cloud and Hitachi Vantara cloud goes toe to toe with AWS, Azure, and Google, but fall short in the process. If you are familiar with IBM or Hitachi infrastructure and are looking for competitive service, then IBM Cloud or Hitachi Vantara is for you.
IDrive is created mainly for businesses and individuals who have multiple devices that need to be backed up. Judging by the extensive suite of features available at IDrive, it's clear that IDrive is one of the more ambitious cloud storage and backup services on the market that tries to offer a solution to all the backup needs users may have.
Backblaze, IDrive and Wasabi might not be as well known as other services like Amazon S3 or Google Cloud Storage, but its features in comparison with its pricing make it an outstanding choice. If you are a user or a developer who just wants to store backups in the cloud, due to the cost and simplified pricing, Backblaze B2 or wasabi is one of the best options out there. No need to set up extra services or add complicated users permissions.