Overview: Updated Feb 2020
Backblaze:
Backblaze is a provider of online backup services and cloud storage. The vendor, which was founded in 2007 offers personal and business cloud backup. Backblaze promotes its ability to back up all data, regardless of storage location and file size.
Backblaze uses military-grade security to encrypt files and it gives you the ability to back up just about every type of file, including large ISO (DVD backup) images, and entire virtual operating system backups.
CrashPlan:
CrashPlan for Small Business ranks among the best online backup for small business solutions available today. Unlimited backup, great value, private encryption and some of the best versioning capabilities of any online backup service we've reviewed.
In 2017, CrashPlan discontinued its support for private
backup. CrashPlan made the move to focus solely on its business customers.
Pricing:
| Cost per Computer: | Backblaze: | CrashPlan: |
| --- | --- | --- |
| Monthly Subscription: | $6 Per Computer | $10 Per Computer |
| Annual Subscription: | $60 Per Computer | N/A |
| Biannual Subscription: | $110 Per Computer | N/A |
Backblaze:
Backblaze has only the personal unlimited plan which provides unlimited storage for $6 per month per computer. Backblaze's price is reasonable for a single device but if you need to backup a lot of devices then Backblaze is not the perfect choice for you. Backblaze offers a 15-day trial so you can easily test the features before committing to it.
Backblaze is the winner in pricing as it lets you backup
unlimited data for just $6 per computer per month or $60 per computer if you
pay for a year in advance.
CrashPlan:
Like Backblaze, CrashPlan also allows you to backup one device on a $10 per month per computer plan. CrashPlan makes it simple to add new computers to your backup plan. Because of this, CrashPlan charges per month and offers no annual subscription option. You can cancel the subscription at any time. You have to provide a debit/credit card or a PayPal account for a 30-day free trial to test the service, it also enabled auto-renewal by default.
App Installation:
Backblaze:
Backblaze has a simple installer without much techie knowledge anyone can install and start to backup their computer easily as shown in the image below. You can download the free trial version from here Backblaze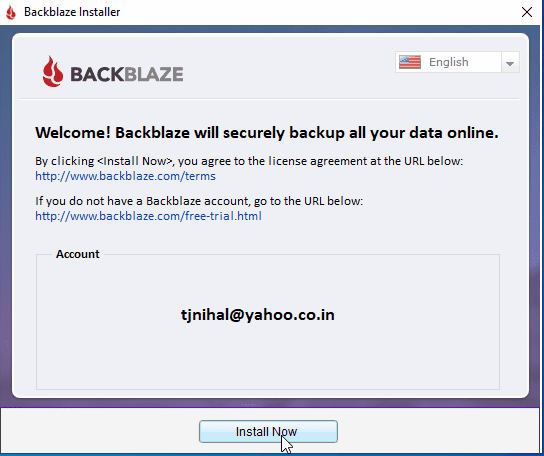 CrashPlan:
CrashPlan makes it very difficult to download their installer. Without providing your personal and billing information you cannot download their installer. The installation process is clear as you can see below: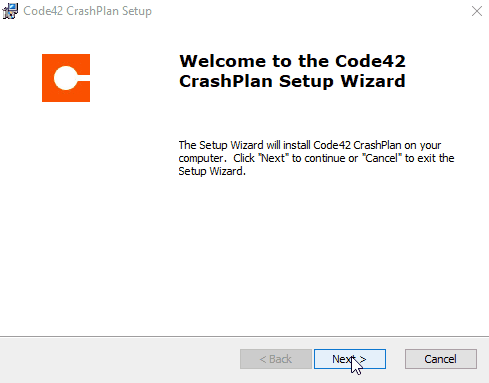 Features Overview:
| Features | Backblaze | CrashPlan |
| --- | --- | --- |
| Scheduled Backup | Yes | Yes |
| Continuous Backup | Yes | Yes |
| Incremental Backup | Yes | Yes |
| Image-Based Backup | No | No |
| External Drive Backup | Yes | Yes |
| NAS Backup | No | No |
| Server Backup | No | Yes |
| Hybrid Backup | No | Yes |
| Inherit backup | Yes | No |
| Mobile Device Backup | No (retired) | No |
| Unlimited Backup Storage | Yes | Yes |
| Unlimited Devices Backup | No | Yes |
| Speed Throttling | Yes | Yes |
| Block-Level File Copying | Yes | Yes |
| Multithreaded Backup | Yes | No |
| Recovery via Shipped Hard Drive | Yes | No |
| Private Encryption | Yes | Yes |
| Encryption Protocol | Yes (AES 256-bit) | Yes (AES 256-bit) |
| Locate Computer | Yes | No |
| Device Sync | No | No |
| File Sharing | Yes | No |
| File Version | Yes | Yes |
| Deleted History | Yes (30 days) | Yes |
| HIPPA Compliant | No | Yes |
Backblaze:
Backblaze focuses on backing up your computer with minimum effort required on your part. This might be attractive to some users, Opting instead for an automated and streamlined experience.
Backblaze doesn't offer features like image-based, server and hybrid backups, mobile devices (which was retired in 2018). File retention \ revisions are only kept for a maximum of 30 days.
Backblaze has stored 900 Petabytes data and over 45 billion files recovered thus far, it really is the best choice for simple and convenient backing up of your computer files.
CrashPlan:
CrashPlan for Small Businesses is similar to other services from our online backup reviews, meaning that it can back up your computers and other devices. It only lets you back up one computer, for additional computers you have to pay an extra fee. CrashPlan lets you backup unlimited external drives, for macOS and Linux OS includes NAS Backup, this feature not available for Windows users due to an operating system-level restriction. CrashPlan doesn't let you run multi-threaded backups and courier-recovery service to speed things up, as Backblaze does.
CrashPlan also provides file versioning, which lets you restore previous versions of files to avoid unwanted changes or file corruptions. Unlike Backblaze, CrashPlan gives you the option to customize the versioning policy from the desktop client. CrashPlan's versioning isn't exactly unlimited but it gives you the option to indefinitely keep deleted files.
Crashplan grants essential business features, such as administrative access to monitor employee backups and even access their files
Backup & Restore:
Backblaze:
After the installation, Backblaze starts scanning and backing up all of your computer drives immediately without any user interaction.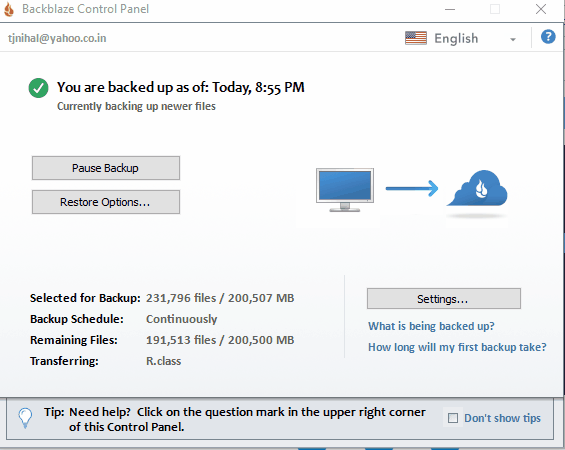 Backblaze let you can choose between continuous, scheduled or manual backups. The scheduled backup can only be set to perform once a day. By default, Backblaze will automatically handle throttling and threading and you can customize if you want.
Backups are performed using a block-level algorithm so just the parts that have changed are backed up. You can backup unlimited external drives. Other forms of backup including NAS drives, but there's no way to perform a hybrid backup, which is a mix between backing up your data locally and on the cloud. Mobile devices, servers, and disk clone are not included in Backblaze.
Backblaze has the ability to inherit backup states, this means you can restore all your files to a new computer without wasting time and resources on re-uploading files you've already backed up.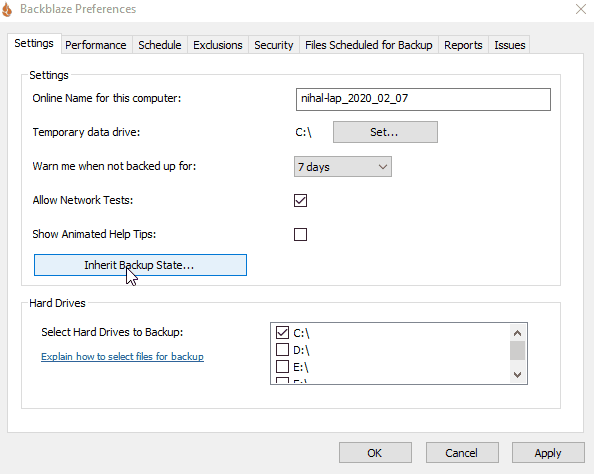 You can restore your file as a zipped folder or you can request for physical shipped as a USB flash drive or an external hard drive with additional charges with the flash drive costing $99 per restore and the external hard drive coming in at $189.
CrashPlan:
You need to set up the destination for CrashPlan to start backing up your computer. CrashPlan stores your data in the cloud as a default, but you can also select local drives as the destination for your backup.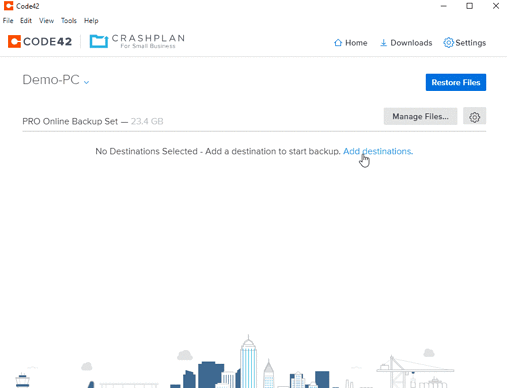 Backup available for external hard disk but not option NAS devices. CrashPlan can be run as continuous backup and scheduled backup will run in continuous backup mode. You can set a resource limit on CrashPlan so that your other work doesn't get affected.
CrashPlan has several restore options, you can restore files to their original location, desktop, downloads, or to a network location. Crashplan gives admin access to the user backup files and lets admin to remote restore their end-users computer. Crashplan doesn't have a mobile app or mobile backup features also there's no courier recovery service, either.
Web & Desktop Options:
Backblaze:
Backblaze online web client has a basic UI. It gives an option to view an overview of your devices and files, a menu for restoring your backup, a menu for shared files. Backblaze's web client gives you the option of locating your computer in the event of loss or theft.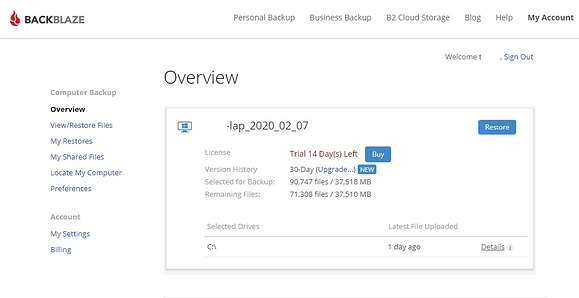 Backblaze Desktop client split its options into eight tabs settings, performance, schedule, exclusions, security, files scheduled for backup, reports, and issues.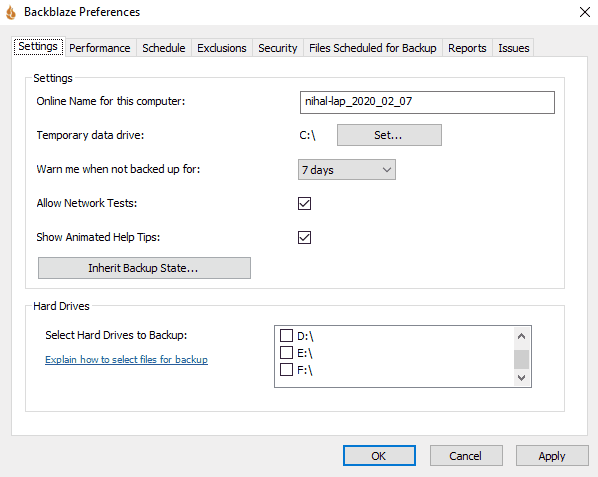 CrashPlan:
CrashPlan gives the ability to monitor all devices from the web console under the Devices tab. The last backup time as well as various forms of storage, transfer, and security information are all readily available for administrators to use. CrashPlan's desktop client takes only a couple of minutes to install, after which you'll be asked to sign in. CrashPlan managing features are an excellent addition for business owners that allow you to monitor and deactivate devices being backed up, add and deactivate users. CrashPlan design doesn't feel attractive and modern, that's probably not so important if you need the features.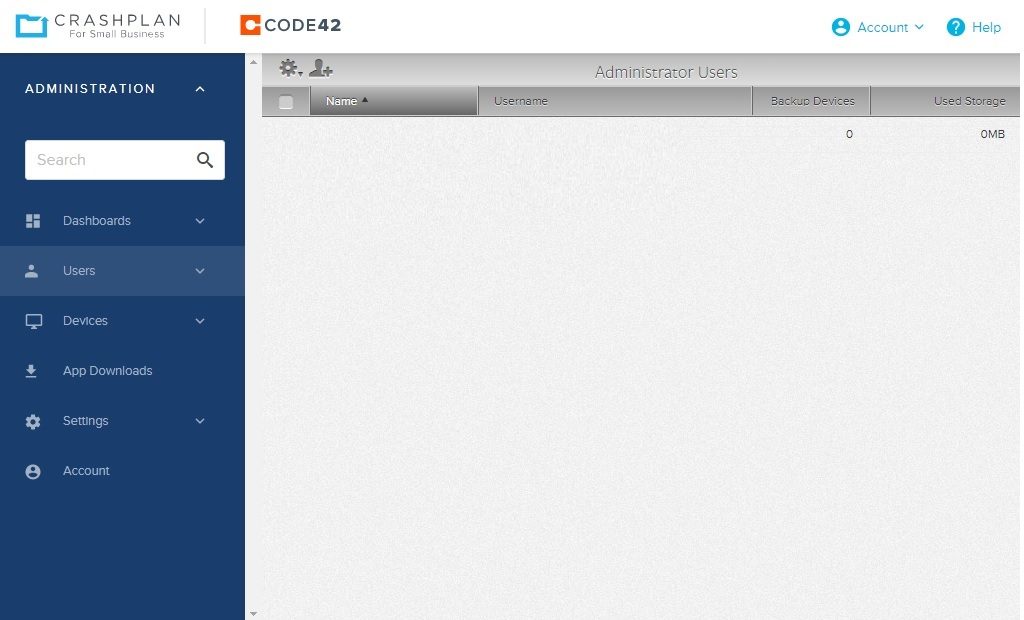 CrashPlan the desktop client itself is well done and is intuitive enough, with "home," "downloads" and "settings" buttons positioned along the top. The main pane of the window shows your online backup set. That is, the files and folders you selected for backup. You'll also see your backup destination there.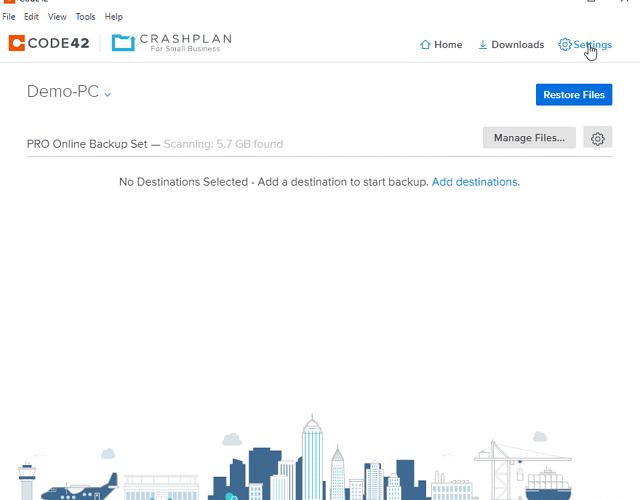 Security:
Backblaze:
When backing up your data with Backblaze, your files are secured using AES 128-bit encryption both at-rest and in-transit. When your files are being transferred to the cloud SSL is used to ensure it remains private. Private encryption is not enabled by default, requiring users to set this up manually.
The only way you can restore your files is via the web client. This means you have to provide Backblaze with your private encryption key in order to recover your data. Additionally, Backblaze lets you enable two-factor authentication to make it more secure.
CrashPlan:
When backing up your data with Crashplan, your files are secured using AES 128-bit encryption both at-rest and in-transit. CrashPlan uses AES 256-bit encryption to scramble your data while at rest on its servers. This encryption takes place before your files leave your computer, but by default, CrashPlan will hold onto your encryption key for you. That ensures that the company can reset your password if you ever forget it.
When your files are being transferred to the cloud, SSL is used to ensure it remains private. Additionally, CrashPlan lets you enable two-factor authentication to make it more secure.
Privacy:
Backblaze:
The privacy policy is clear and concise, and it states that Backblaze will never share or sell the metadata it collects to anyone unless it's a trusted partner involved in providing the service or to comply with a law or regulation. Backblaze uses your data such as about your device, operating system, usage statistics which is used internally for development and analysis to improve their product.
Backblaze is GDPR compliant and adheres to the EU/Swiss
Privacy Shield for international data transfers, but it is not HIPAA compliant.
CrashPlan:
Collecting information about you from third parties isn't common, but at least CrashPlan will notify you about it in an email. Code42 uses such personal data to provide products and services, as well as analyze the frequency, duration, and types of usage of its website to improve user experience.
CrashPlan are compliant with GDPR, that strengthens the privacy of user's online data. On top of that, CrashPlan provides private encryption.
CrashPlan internal company processes to make it easier for all of the customers from enterprise to small business to manage their data in a HIPAA-compliant manner.
Conclusion:
Backblaze:
If you are looking for an easy solution to backup your data, Backblaze is the right choice for you. Requiring minimal input from the user, top-notch security, unlimited cloud storage at an affordable price and the option of asking for an external hard drive to restore all your data if your computer is broken down or stolen, it is an excellent backup service.
Backblaze is limited to account for one computer, if you have multiple computers you will have to consider multiple accounts, which makes not the right choice for the business. It is well suited for individuals, friends, and families.
CrashPlan:
CrashPlan for Small Business isn't a perfect solution. Its
biggest fault is that it doesn't take advantage of its unlimited backup
capacity to simplify the user experience with file-type rather than
file-location backup. Plus, it doesn't have a mobile app, which means you can't
use it to backup your mobile data or access your backup on the go.
CrashPlan claims to focus on only small business but it doesn't have courier-recovery service and it doesn't offer live support during weekends and nights. Beyond those complaints, though, CrashPlan has a lot of upsides.