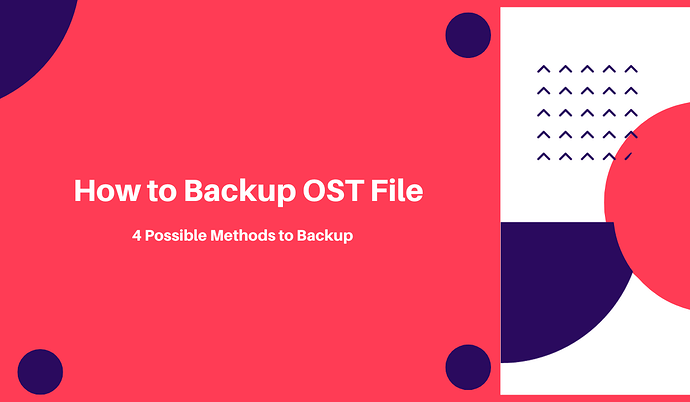 Microsoft Outlook files called OST (Offline Storage Table) refer to offline copies of your mailbox data stored locally on the computer hard drive. They enable you to work without a network while updating the mail server upon getting back to the internet.
Nevertheless, periodic backup of OST files becomes necessary to eliminate the possibility of losing data due to system malfunctions, intentional deletion, and damage. This blog will consider different ways one can back up an OST file.
Method 1: Doing manual Backup via Outlook Import/Export Wizard.
Open Microsoft Outlook and click "File".
Choose "Open & Export" and select import/export.
Select "Export to a File" and click next.
Click on "Outlook Data File" and press "Next."
Choose your OST file then specify where you want to save your exported or backed-up PST file.
If required, choose the function "Replacing duplicates with item exported".
Once you click finish, the backup will start.
Method 2: Using Microsoft Outlook archive feature to backup OST file.
Start with Microsoft Outlook on the files tab.
Go to "Options" and choose "Advanced."
From "Autodata", tap the button "Autoarchive settings".
Make sure you have "AutoArchive" enabled and select how often you want archiving to happen.
Type a destination folder, navigate save OST file dialog box and press OK.
Method 3: Using a professional OST backup tool.
Fortunately, many third-party tools can help make backups easier, and they offer enhanced options to manage OST files as well.
Conduct research for reliable OST backup software that meets your specific needs.
Downloading and setup of the chosen tool.
Connect your Outlook profile, then choose the OST file you wish to back up according to the on-screen directions.
Select the backup location, making any other changes you desire.
Commence the backup process and ensure that, when completed, it should not have resulted in any issues.
Method 4: Cloud Storage Backup:
You can also back up your OST files on cloud storage such as Google Drive, Dropbox, and OneDrive.
You should also install the appropriate cloud storage program on your computer.
Create a new folder under the cloud storage directory for archiving the OST backup.
Navigate to your computer's OST folder and transfer copies of the files into the recently established subdirectory in the cloud storage area.
This will be achieved by updating the file for automatic synchronization in the cloud, allowing users to easily access it via any device as long as they log into their account.
Conclusion:
You must back up your OST files to secure your own mailbox data from sudden incidents. Whichever method you select for backing up the OST file – manual exporting via native Outlook tools, using auto-archive or third-party backup software at intervals – regular backups will give you peace of mind and guarantee that you can restore all your information if required. You must stick to your selected routine for keeping your OST file backups current.