Microsoft ceased releasing software and security updates and technical support for Windows 7 on January 14th, 2020. Although Windows 7 is still running up to date, it is more vulnerable to security threats, including viruses and malware, because there are no regular updates and technical support. After Microsoft discontinued technical support and updates, users with computers using Windows 7 Operating System will receive "end of support" notifications. Computer users have two choices, continue using less-secure Windows 7 or upgrade to a more secure Windows 10 Operating System. Users with a genuine Windows 7 OS can upgrade their computers to Windows 10 in few clicks.
Before upgrading, it is recommended to backup files and programs which can be erased during the process. By having a backup of the files, users can restore them to the computer with Windows 10. A clean installation is recommended because the chances of having issues and errors when upgrading are very high. The errors encountered during the process may cause compatibility issues of drivers and programs. The clean installation ensures there are no problems since all files stored on the hard drive will be deleted, and install a clean copy of Windows 10 Operating System.
For a successful Windows 10 upgrade, the computer must meet the minimum hardware requirements:
More than 1 GHz Processor
Random Access Memory of 1 GB and 2 GB for 32-bit and 64-bit, respectively
Hard drive of 16 GB (32-bit) or 32 GB (64-bit)
Working network adapter (Wi-Fi or Ethernet)
At least 800×600 resolution
DirectX 9 graphics
How to Upgrade Windows 7 to Windows 10 (Step by Step Guide):
Purchase Windows 10 License from Microsoft Online Store. You can choose buy Windows 10 Home or Windows 10 Pro or Windows 10 Pro for Workstations as per your requirement from the Microsoft Online Store or other accredited retailers. If a user meets specific requirements, he/she can get Windows 10 for free.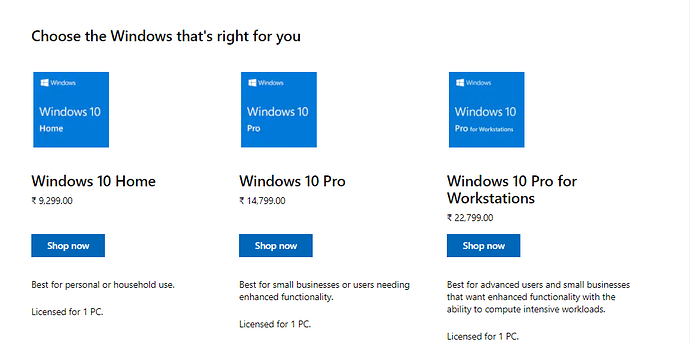 Create an installation point (USB installer or download Windows 10 Creation tool): For a clean installation, users can buy Windows 10 USB, access the drive, and run the Setup.exe file. If the user has downloaded Media Creation Tool, he/she can launch Windows 10 setup by double-clicking on the MediaCreationTool.exe.

Click on the "Upgrade this PC Now" and follow the prompts carefully. Type a genuine Product key and Accept licensing terms.

Choose to "keep personal files and apps" and click the INSTALL button using the Custom installation option.

Depending on the computer processor, the upgrade usually takes about an hour. After completing the upgrade, users should ensure Windows 10 OS works well with the hardware; there should be no conflicts between drivers and the CPU. Go to device manager and check any driver with a yellow exclamation mark to update it through the internet.
Updating a PC to Windows 10 is a simple process if your computer has the recommended requirements. However, suppose several drivers are unavailable after the upgrade. In that case, the PC may not be compatible with the changes, and it is recommended to look for another computer with the best features.