This is like the Microsoft out of memory issue and doesn't make sense. Not just me I presume!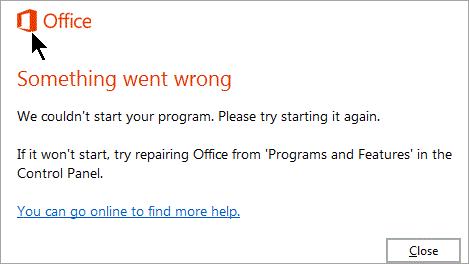 Hi hello i think u need to enter to the contol panel and then to unninstal programs then choose office tap on change and tap on repair i hope this method solve ur problem if not try to reinstall the program
Hi @JimClench,
Please follow the below troubleshooting steps to resolve this error in your device:
Click on Start, type services.msc in search programs and files box above Start and press enter.
If you are prompted for an administrator password or for confirmation, type the password, or click Continue to proceed further.
In the Services list, double-click Microsoft Office Service.

In the Windows Installer Properties dialog box, click Automatic in the Startup type list.

Click Start , click Apply , and then click OK .

Start the software installation.