Hello,
Yesterday my friend gave his laptop to me to debug a printer issue.
While I trying to debug a printer issue, I noticed that different printers are showing up in different windows/parts/modules/components from Windows 10 and I can't figure out what's causing it
The client computer had various printers and drivers installed, some network, some locally.
In an attempt to debug the problem and trying to clean out old, unused and double installed printers and printer drivers.
Under the control panel, I can find 2 copies of the Star TSP650II Cutter (copy 1) and copy 2. These 2 printers (they are print queues actually) are not listed under print management -> printers.
Under "device management" there is a printerqueue \servername.domainname.local\pr_ticket_ldc1 which is not visible in the control panel of printmanagement
I uninstalled all unused drivers, all printers (apart from the pdf and one-note printers) and those Star TSP650II Cutter (copy 1) and copy 2 simply won't go away.
I have even removed the user profile entirely from the machine to get to a 'clean' state, but those Starcutter printers just keep popping back, the moment the user logs on.
The computer is a Windows 10 1803. The laptop should only have network printers installed and these are servers by only 1 print server. The print server is a Windows Server 2008R2.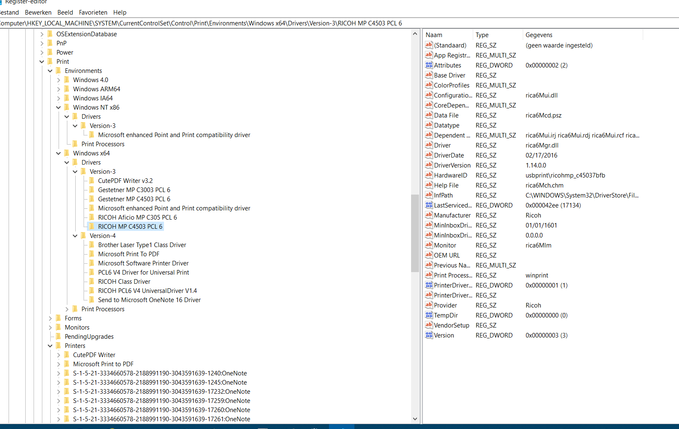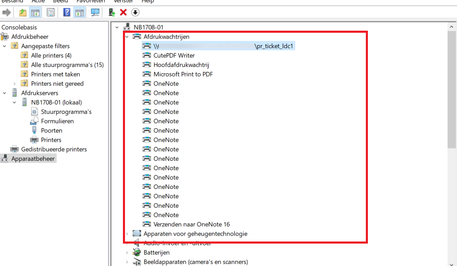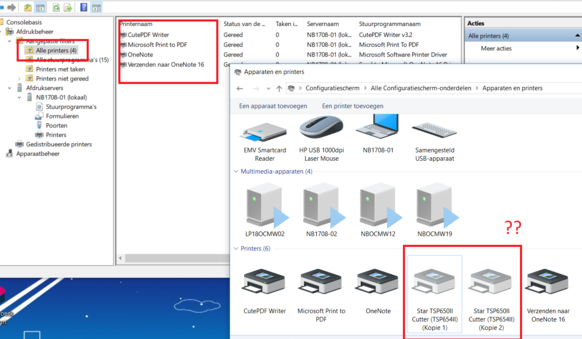 I'm completely at a loss