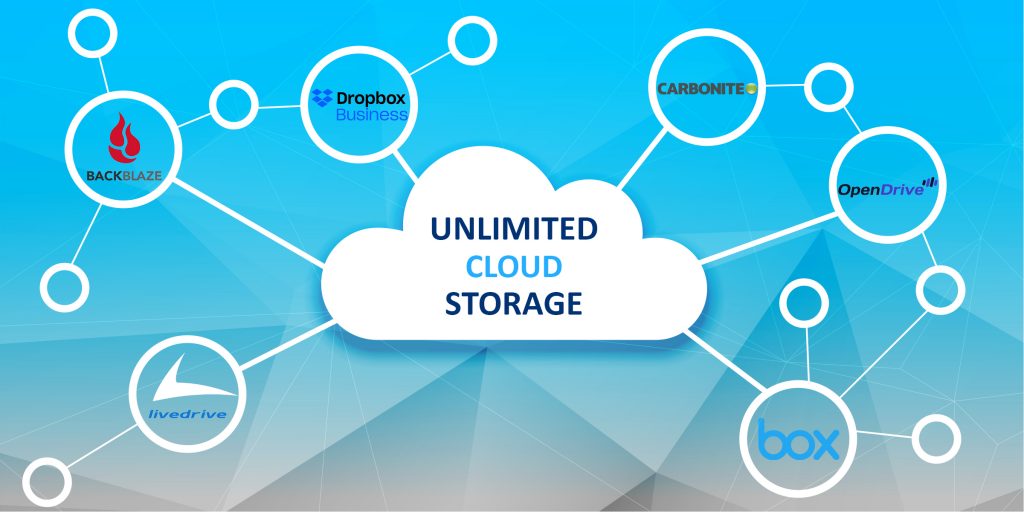 Is unlimited cloud storage really unlimited?
Nobody has an unlimited amount of data. Then, why would anyone need unlimited plans? Unlimited plans have no restrictions on how much data you can store in the cloud. It can simplify your storage methods while also giving you some peace of mind. Whatever the case may be, unlimited cloud storage is a worthy investment. It is theoretically possible to provide unlimited cloud storage, but in reality, it is not all that technically and financially feasible. Some providers claim to provide unlimited storage, but once a certain storage level is reached, they decrease the upload and download speeds or insist you ask permission for some more space. Some providers simply have a fair usage policy which says you can't store more than an X amount of data.
Many Cloud providers were losing money with free unlimited cloud storage and many who offered it in the past have stopped doing so. One of the latest examples is Amazon, which ended its unlimited storage plan earlier in 2017. Amazon's unlimited plan was introduced back in 2015 to compete against Dropbox and Google Drive. Another recent example is CrashPlan for Home, which was discontinued entirely on 22 October 2018. In 2014, Microsoft introduced unlimited OneDrive storage for Office 365 subscribers, then reduced storage to a 1TB limit in November 2015. Mozy and SugarSync also offered unlimited plans, but both eventually dropped them as well.
Few cloud storage providers place no limit on the raw amount of data you can store with them. Some may give you more space, others more bandwidth, some may limit space and/or speed, some do charge by the gig, while others let you pay a flat monthly fee.
In this article we have picked 6 Top cloud storage provider who claims they are offering unlimited storage plans, are they really unlimited or is there any restriction or limitation check them below:
Product Overview:
Dropbox was founded in 2007, one of the largest and well-known cloud storage providers. Dropbox Business was launched in 2013 for all sized teams to better manage and share business data. They're not inexpensive but offer an application for virtually every operating system, providing the opportunity to share files with others, even if they don't have an account with Dropbox.
Backblaze was founded in 2007, is an online storage company that offers personal and business backup as well as B2 cloud storage. Based on San Mateo, California, United States. Backblaze offers an economical and easy solution to backup unlimited data to the cloud. Backblaze has 3 subscription type all of them offers unlimited storage.
Livedrive was founded in 2008, is an online cloud backup and sync storage service. The company provides users with unlimited backup space and 2,000 GB or more of sync storage. Livedrive is an online backup service with two unlimited backup plans to choose from, both of which can be customized and fine-tuned to work best for your setup. Livedrive has two plans and two of them offer unlimited storage.
Carbonite was founded in 2005, is an online backup company in Boston. Carbonite sells cloud backup to consumers, small and medium-sized businesses and small enterprises. The company's offerings back up documents, emails, music, photos and settings, and are available for Windows and Mac users of desktop and mobile devices.
OpenDrive was founded in 2005, for the past few years it has become a multiplatform solution for online storage, syncing, backup and cloud content management. OpenDrive's strategy is not only to be online storage, backup and syncing software, but also a centralized solution with integration of storage, apps, and services such as tasks, social networks, project management within the single interface to create uniform experience accessible from anywhere.
Box was founded in 2005, is a cloud storage and content management service that supports collaboration and file-sharing. Users can share files, invite others to view, edit or upload content. Box can be used for personal use; however, businesses need to sign up for either a business, enterprise, or elite account.
Unlimited Storage Plan and Pricing:
Dropbox Business standard plan offers 5 TB of storage limit at a cost of $12.5 per month, Advance plan offers unlimited storage at a cost of $20 per month and the enterprise plan offers unlimited storage for pricing we need to contact them.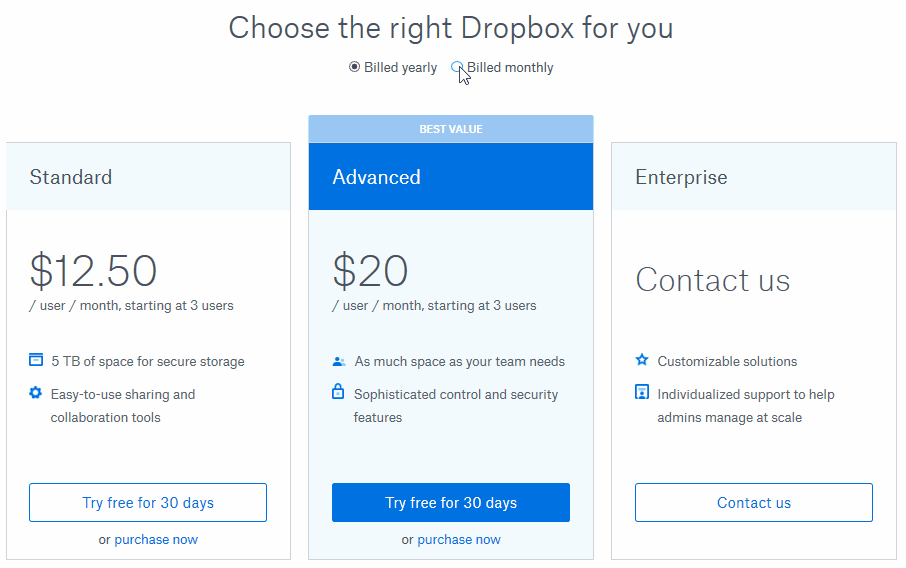 Backblaze is the winner in pricing as it lets you back up unlimited data for just $6 per computer per month or $60 per computer if you pay for a year or $110 per computer if you pay for 2 years in advance.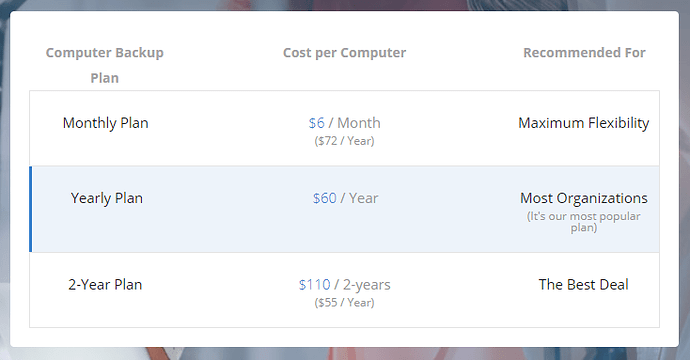 Livedrive Backup plan charges $8 per month and provides unlimited backup for one computer. Pro suite plan charges $25 per month and It gives you 5TB of sync storage space and unlimited backup space. Briefcase costs $16 per month and gives you 2TB of sync storage space.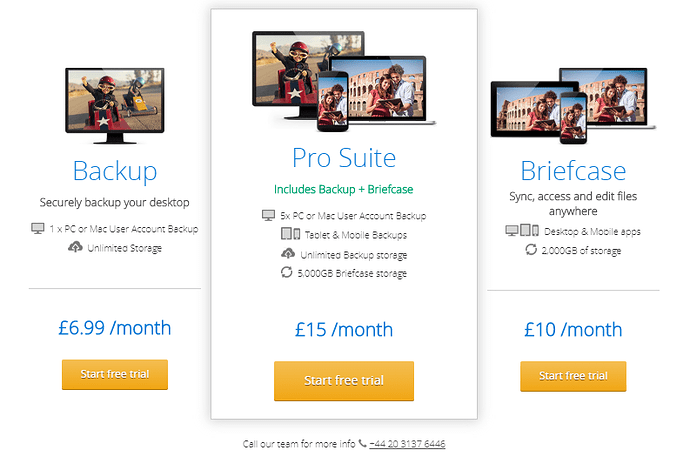 Carbonite Safe Basic grants you unlimited storage space for your backed up files. is priced: 1 Year: $71.99 ($6.00 /month); 2 Years: $136.78 ($5.70 /month); 3 Years $194.37 ($5.40 /month). The Safe Plus plan is priced: 1 Year: $111.99 ($9.34 /month); 2 Years: $212.78 ($8.87 /month); 3 Years $302.37 ($8.40 /month). Safe Prime extras bring the price up a bit: 1 Year: $149.99 ($12.50 /month); 2 Years: $284.98 ($11.87 /month); 3 Years $404.97 ($11.25 /month).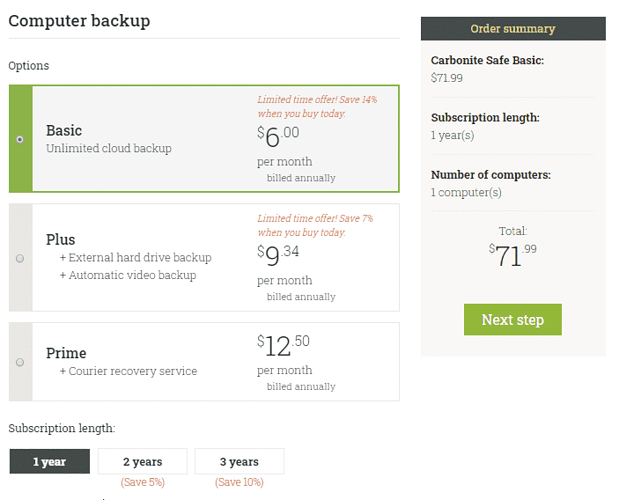 OpenDrive offers three plans, personal plans, business plans, and enterprise plans. You can find a more detailed description of their programs in the following table: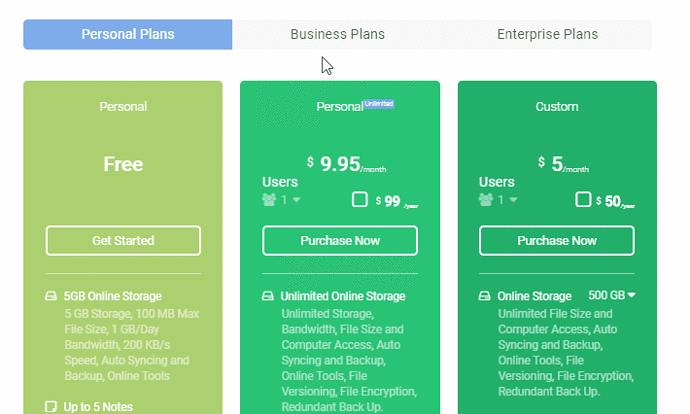 Box:
Box Business plan costs $15 per user per month and includes unlimited storage but with a file upload limit of 5 GB. You'll need a minimum of three users for this plan, but there's no maximum limit of users.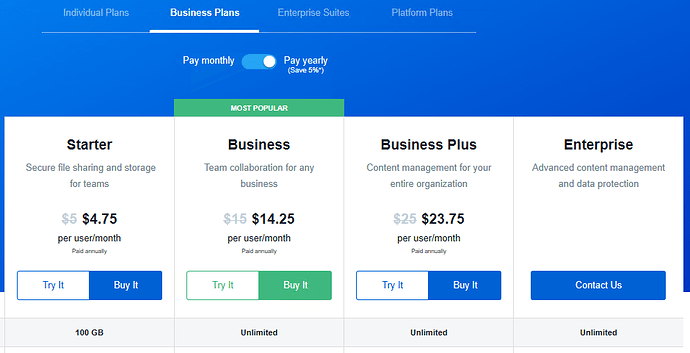 Bandwidth Speed and Throttling Test:
Speed in many cases is far more dependent upon your broadband connection than that of the online service, though the geographical location of the storage and the equipment in between can make a significant difference. Check the location of the data servers if speed is important to you.
How we tested?
We have installed all the product software's in multiple azure VMs and backed up around 220GB of data in all the products to confirm if they have any restriction/limit while reaching certain storage size, bandwidth, file size, etc., These are noted in the result.
Device details:
| Device | Azure Virtual Machine |
| --- | --- |
| Region | UK South, london datacenter |
| Internet Speed | 1 Gbps of upload and download speed |
| Ethernet Port Speed | 50 Gbps |

| | Upload speed of 100GB small files | Upload speed of 114GB single large file | Bandwidth throttling | File size limit |
| --- | --- | --- | --- | --- |
| DropBox Business | Avg. 170 mbps | Avg. 200 mbps | No limit | No limit |
| Backblaze | Avg. 90 mbps | Avg. 18 mbps | No limit | No limit |
| Livedrive | Avg. 50 mbps | Avg. 76 mbps | No limit | No limit |
| Carbonite | Avg. 15 mbps | Avg. 15 mbps | No limit | No limit |
| OpenDrive | Avg. 23 mbps | Avg. 28 mbps | On above 10TB for Personal | |
| On above 20TB for Business plans | No limit | | | |
| Box | Avg. 15 mbps | Not Possible due to file size limit | 1TB per user per month for all plans | 5GB |
Strengths and Weakness:
Each of the leading providers has particular strengths and weaknesses that make them a good choice for certain projects. Below are some of the main strengths and weaknesses of providers.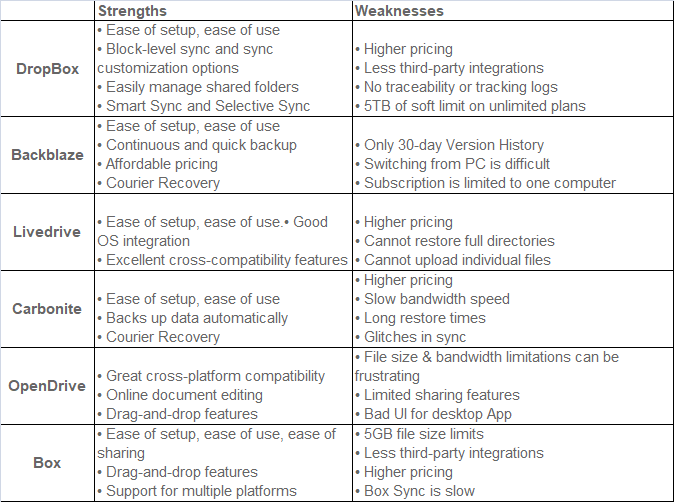 Conclusion: Who is Truly Unlimited?
Dropbox Business is a great service. It doesn't have any limitations in terms of file size, bandwidth, and storage, etc., Best suitable for companies of all sizes who need better collaboration, file sharing, online backup, and more. But Dropbox Business is expensive, If you are not concern about pricing then dropbox Business is the best available tool today.
Backblaze offers only one plan to choose, the personal unlimited plan which provides Unlimited storage and Unthrottled bandwidth for $6 per month but you can backup only one device per plan. If you have a lot of device Backblaze is not the best choice for you. Backblaze is kind of unlimited but limited to one device. It is well suited for individuals, friends, and families.
Livedrive isn't the cheapest backup service you can buy but it does have a nice collection of features. Plus, the flexibility of the plans should make it easy to find one that works well for you. Livedrive is truly unlimited and doesn't limit on bandwidth, file size, fair use limit. If you are not happy with Backblaze then you should try Livedrive.
Carbonite is a true online unlimited backup software, not online storage, it has a limit on some file extensions and for more than 5GB of size in files, carbonite doesn't backup automatically, you have to manually backup them. Carbonite offers unlimited backup but It's not so easy to back up your files and restores with them due to their slow bandwidth. If you are a mac user it doesn't have versioning for macOS. It has simple right-click selection in Windows Explorer of files to back up and a readily viewable status of backed up items.
OpenDrive gradually begins to throttle the upload speed on exceeding the storage size 10TB for the personal plan and 20TB for the Business plan and it claims 99.9% of users don't reach this limit. It doesn't seem to be very friendly to its free users; It almost forced to either upgrade or go for some other cloud storage. OpenDrive does not restrict the number of devices connected to the storage, even for free plans. It is tough to choose OpenDrive over the other competitors but there is still plenty to like, Unlimited storage, good pricing, backup, zero-knowledge encryption, media streaming, notes, and task management top the list.
Box offers similar solutions comparing to Dropbox at a cheaper price but it's the biggest disadvantage is 5GB of file size limit even for its business and enterprise plans and 1TB per month of bandwidth limit on all the plans. Like dropbox Box also offers the same depth of admin controls, versatile file sharing, mobile access, and reliable security. The "better" product will depend on your unique priorities and budget. But Box file size limit is the only restriction which makes most of its customer to look away.