Hi,
I manage a small office. Today I have got one support request where Windows has messed up with the Bluetooth driver. The Bluetooth driver has abruptly stopped working.
It is an Intel Wireless Bluetooth and it displays this error: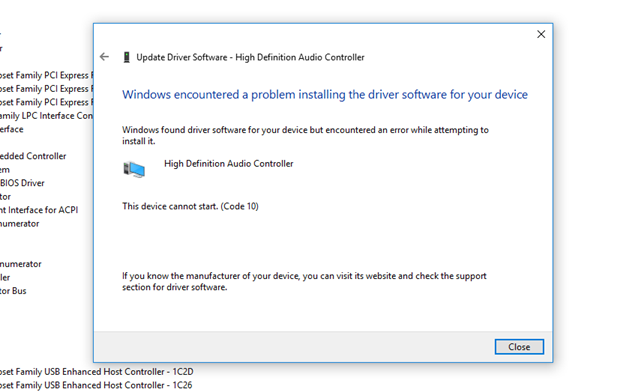 My attempted solutions:
Reinstalled my driver (several times) in Device Manager and also used Intel Driver & Support Assistant.
Restarted all Bluetooth services in Services and set them to automatic startup then restarted my computer.
I uninstalled the Bluetooth driver and restarted my computer, but it still was still not fixed.
Used the Windows Bluetooth troubleshoot, but it didn't say that I needed a Bluetooth driver update.
Still, I am return to display Code (10). Occasionally, the Device Manager window would quickly flicker the Bluetooth from working to display the error message before finally stopping on the error message. I am also not using a USB device to connect for Bluetooth. All of the troubleshooting options that I have used say that my Bluetooth driver is up to date and does not require an update. Windows Defender Security Center also detected an issue with the "Device Performance & Health" but its troubleshooter only asked me to restart my computer which did not work.