Hello,
I've been using Windows 10 for 10 months now, and I started to deploy our first Server 2016, so I'm still relatively green to this OS family. I'm waiting for the server to reboot and frustrated because for the last 40 minutes the screen reads, "Getting Windows ready, Don't turn off your computer…" Here's what happened.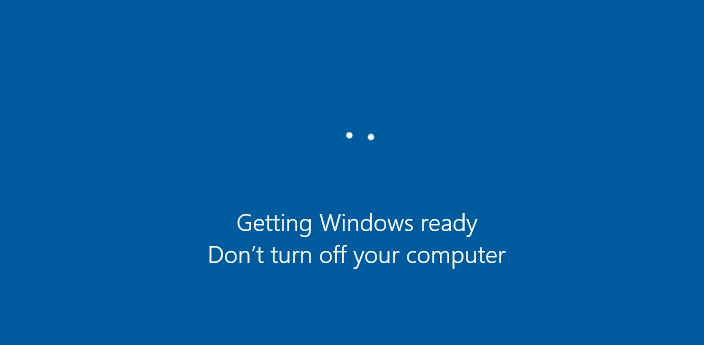 I wanted to restart this server but first I checked for updates on Windows 10 and that's when the downloading started…I just wanted to see them but they start downloading without any problem.
I'll wait. Then the download got to 9% and stopped … ten minutes later it was still at 9%. Unfortunately, I'm very familiar with this (it's not new to Server 2016), it can take an hour to download updates because of all the intermittent stopping. So, I'll just restart and see if the process will be interrupted…negative. That's why I'm stuck waiting, apparently so the downloading completes (I'm hoping the update didn't install but I won't be surprised if it did).
Anyway, the new norms seem to be thus:
Checking for updates is no longer just that, despite what the button and the rest of the screen says.
It will find and download, whether you want it to or not.
Downloads will stop intermittently, often 2 or 3 times during the process. This has been true for the last several years, even with Server 2008 and 2012.
Goes something like this – Start > 9% > (wait 15 minutes) > 44% > (wait 20 minutes) > 78% > (wait 15 minutes) > 100%. Now that it's downloaded an hour after you started, the installation process can begin (then the rebooting).
Restarting during the download of an update will take a long time. It will (apparently) stop the download though.
This thing finally restarted while I was writing this and I went and clicked the "Check for updates" button and guess what, it's downloading the same darn update…oh, and it's been at 0% for nearly 5 minutes now…only 15 more to go until I see it advance to the mid-'20s and stop again. If only it would just SHOW the update and ASK me if I'd like to download!
Anyway, is there something obvious that I'm missing with this new family of OS? I'd switch to WSUS, I've spent 5 minutes proofreading and my download is still at 0%.
It's one thing if this was the behavior of a Windows HOME version. The average user needs the spoon-feeding.
However, I'm on expensive server software, logged in as Administrator and the defaults are saying, "Open wide, here comes the choo-choo train with your medicine."
How can I solve this trouble.?