All
We have this issue with a new customer's email on www.stackmail.com
We didn't set them up and can't get the basic details on this company.
Error
3 different users working from 2 different locations. They are using MAC and Windows with MS office. None of these can send or receive email.
The same 3 people have Samsung mobiles and one iPhone, and they can send \ receive email with no issues.
The issue started on the 19th June and is still ongoing.
Their webmail portal is www.stackmail.com and we just get an error which says we can't login.
Debugging
I found their status page @ https://www.stackstatus.com/ and this very thin on info.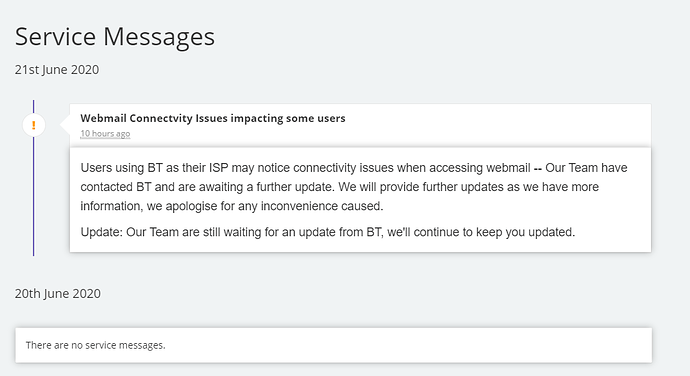 I don't see how mobile devices work, yet the desktops don't, and they are on the same WIFI.
I wanted to try a login on their webmail and reset a password, but there is no reset link. There isn't any other basic legal stuff on that page either. The link is www.stackmail.com
This is a genuine request to see if anyone else is using these guys and if they have the same problem.
They appear to use cube email.