In Windows 10 Blue screens can happen for many reasons. If you get the Windows 10 stop code error Driver Power State Failure on your Windows 10 device, it usually could be a indication bad drivers, or incompatible hardware, or improper power settings in some cases.
Fixing this error is relatively simple In our suggestions this include 6 solutions as we have listed below to fix the error. If you are lucky You may not need to try them all. Just make sure to follow one by one until you find the one that works for you.
Remove external hardware
Uninstall the problematic driver
Update device drivers
Turn off power saving
Uninstall third-party software
Refresh your Windows 10 PC
Solution 1: Remove external hardware
External hardware like External Hard Disk, web came, printer, scanner, or any other USB device which is connected to your PC can cause driver power state failure problem on your Windows 10 device. Try to reconnect all of the device and restart your computer and if you have multiple external devices connect one by one until this error disappears.
After removing any of the external device if you no longer receive any driver power state failure error and your computer runs correctly after removing external hardware this means that one of your hardware is causing the problem. You may try to Reinstall or Update the driver for the device once you've identified it.
Solution 2: Uninstall the problematic driver
If you go to Device Manager you may find any of the driver is not working properly. Windows will show device status as in Exclamation mark in the device Manager. Something will be written in the description of the driver which is not properly as – the device driver is missing or corrupted. In this case, uninstalling the corrupted driver should fix your issue.
Follow steps below to uninstall the driver.
Expand categories "Network adapters". Right-click on wireless device and select Uninstall.

Then click "OK" button to confirm the Uninstall.Make sure your tick the "Delete the driver software for this device." at the bottom corner, before pressing OK, check the box next to it.

Now restart your PC and see if the error disappears.
Solution 3: Update device drivers
Outdated driver is one of the most common causes of this problem which trigger Driver Power State Failure error on Windows 10 device. You need to make sure all of your device driver are up to dates Whether you choose to update the device drivers manually though device manager or using Windows Update, or you use any third party driver update software. It's recommended that you have the latest correct device drivers for your operating system at all times.
Solution 4: Turn off power saving
Power setting problem can be a major issues which may trigger Driver Power State Failure error on Windows 10 device. So changing the power state settings will help to resolves the problem.
Open Control Panel
Press WinKey+R and type Control Panel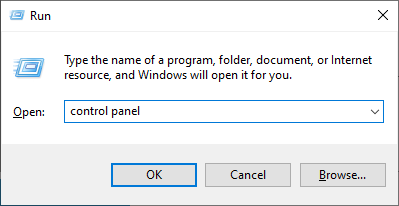 Open Power Option
Click Change plan settings in choose or customize a power plan
Click Change advanced power settings
Expend the Wireless Adapter Settings and then Power Saving Mode. Make sure to select Maximum Performance Power Saving Mode if any other mode is selected.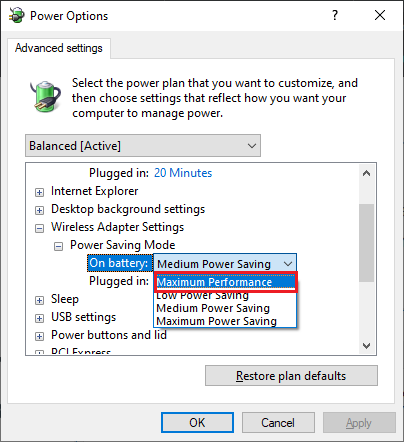 Click OK and restart your PC now.
Solution 5: Uninstall third-party software
The Driver Power State Failure error on Windows 10 device should have fixed now but unfortunately if you are keep getting it, our next prediction can be a corrupted. Third-party software, especially antivirus software running on your device. In most of the times thrid-party software can also trigger the blue screen of death errors.
To confirm if thrid-party software is causing issue for you, firstly uninstall your antivirus software and try to uninstall any recently installed software which you installed recently. Then restart your computer to test your issue is disappeared as shown below:
Open Program and Feature
Press WinKey+R and type appwiz.cpl in the run box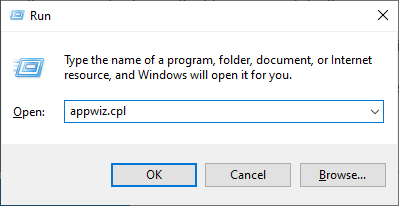 Select the recently installed software and click uninstall to uninstall the software
After successfully uninstalling the software restart your PC and check if the error is disappeared
Solution 6: Refresh your Windows 10 PC
If none of the above solutions worked, your last and final solution will be to try refreshing your Windows 10 computer because Windows 10 refreshing is one of the easiest and best way to fixes the issue like Driver Power State Failure issue.