Hello, friends,
Got " This upgrade path is not supported please close setup and re-launch from the root of the media or go back and pick a different installation choice"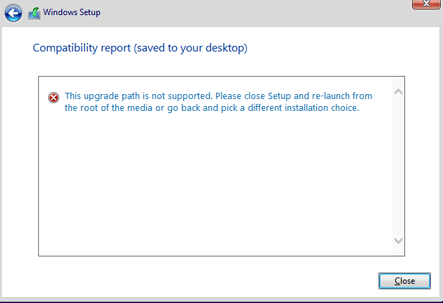 This type of message whenever we try to update them from windows 10 pro-1803 to 1903.
We have 10 to 15 dell pcs that all show this type of message. We also tried our best from ms downloading windows 10 website or downloading iso and preparing it on our pcs but no luck.
Waiting for solutions to the passage above we have to gain a couple of references to install prep. Exe file located under the sources folder of the iso, but the image that we have one of the downloaded has not contained this type of file.
So if there is any solution who encountered this and found a solution to this error spot?